Non-Affine Registration of Drosophila Embryo Images
Since September 2010, I've been working on feature identification and non-affine registration of fly embryo images. This is part of a larger project to identify patterns in embryo development and figure out how the genome makes them happen.
You can read my research proposals for more background:
Research Proposal Fall 2010 -
PDF
Research Proposal Spring 2011 -
PDF
Powered by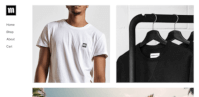 Create your own unique website with customizable templates.