Neural Networks, Computation & Learning
(Spring 2009)
I studied various topics in theoretical and computational neuroscience in MIT's class 8.594/9.641, a graduate level class in the theory of neural networks and computation. Topics included convolutional neural networks and models of the visual system, dynamics and computational properties of nonlinear recurrent networks, supervised and unsupervised learning (PCA, NMF, ICA, CHL, VQ, backpropagation, reinforcement learning), and associative memory models. Work included extensive coding of simulations in MATLAB, in addition to theoretical analysis.
Dynamics and computational properties of neural networks
Learning to recognize handwritten digits and faces
Clustering of handwritten digits
Feature recognition and dimensionality reduction in handwritten digits
Analysis of images of natural scenes
Powered by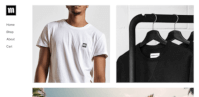 Create your own unique website with customizable templates.