Computer Graphics and Animation Engine
(Spring 2006)
In a computer graphics class at Stuyvesant High School, I developed a 3D Computer graphics and animation system in Java from the ground up. I implemented line drawing algorithms, curve and surface generation, lighting, shading, sphere ray-tracing, and a stack-based animation language. I had a lot of fun doing some shape modeling and animation and probably spent a lot more time tweaking animation scripts than it would have taken to write a GUI. Here are some sample renderings (more of those, plus animations here):
Powered by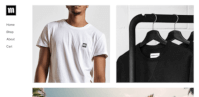 Create your own unique website with customizable templates.